WORLD PEACE
And Other 4th Grade Achievements
World Peace and other 4th-Grade Achievements is a one-hour documentary on John Hunter, a 4th-grade teacher in Charlottesville, Virginia and his students as they participate in Hunter's remarkable educational exercise the World Peace Game. The film has played in festivals around the world, has been broadcast in several countries and was aired to over 85% of the US on public television between 2012-2014. It also supports Hunter's World Peace Game Foundation work, and has had special screenings at the Pentagon, the United Nations, the Aspen Institute's Ideas Festivals, and several universities, educational conferences and schools throughout the world.
For more information about the World Peace Game, please visit: www.worldpeacegame.org
Set Up A Screening for Educators & Groups
Educators across the world have found that watching the film with your fellow teachers, principals, guidance counselors, and even students, has proven to be very beneficial. Even if you don't implement the World Peace Game into your curriculum, the discussions that come out of simply watching it together can make a positive impact on your school. We encourage you to show this film to groups using our educational license. To set up a screening at your school, or for a group, please contact Chris Farina directly at the email below.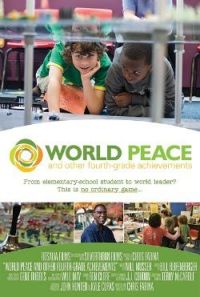 2 Ways to Watch the World Peace Film
1. Buy a physical copy of World Peace on DVD.
ORDER NOW
2. Rent or download the film online through Vimeo
INDIVIDUAL LICENSE
*Educators Please Remember to Purchase the Educational License, which is required for any group screening. Thanks.
SIGN UP FOR OUR NEWSLETTER
Keep up to date on our films, where they are now, and how you can get involved.